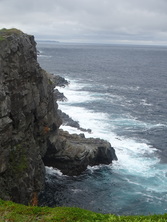 August 31, 2016

Getting caught up on commissions and starting to prepare for the 12x12c12 show and the nonrepresentaional show at the Confluence Gallery later this year. Both will be great as they will force me to work differently, as I rarely work small or abstractly.

Been inspired by the people and seascapes of New Foundland. A recent backpack trip on the east coast trail, was better than expected because of the welcoming people.

Now have work at Studio Seven in Pleasanton, California.

Spent a couple of days in Chicago this past summer. The art downtown is so fun in that it actively engages the viewers.

​

August 25, 2014
Working on the "Celebrating Death" show opening in September at the Confluence Gallery in Twisp, WA. My pieces are titled "When I Am Shining Among The Stars" (a metal and solar light sculpture), "I Will Be Released" (metal doves swirling up a cell bars I got from the Okanogan County Jail, "Isosceles" (a metal enlargement of a delicate fish vertebrae I found on a northern Californian beach this summer), "Chofa" (a metal and wood sculpture of part of a Thai temple with a bird perched on it), and "Dying to Fit In" (my wood carving version of a Posada Catrina). All of the works are finished, but only one is completely done. It is harder to get time to work, now that school has started.
June 22, 2014
Busy spring/early summer. Currently have work in the Confluence Gallery in Twisp, Wa for their "Our River" show, Oak Hollow in Yakima, WA and Smallwood's in Okanogan, WA. Just started a Zazzle store and have a Tiger trout on several products. Find them at
http://www.zazzle.com/danbrownartwork This week I will be working a six pieces for the new Family Health Centers clinic in Omak, WA. Just got home from a stay at Veranda Beach in Oroville, WA and had a wonderful time on the lake.
November 2, 2011
I have been rushing home from school for the last few weeks now to work on an osprey sculpture for the Twisp Ponds. I do not have an inside shop and the weather is getting colder and there is not much daylight to work by in the evenings. It is turning out quite well. Hope to have the sculpture part finished in a couple of weeks and then can work on the installation.
26 August 2011
Last night went to the prose and poetry reading at the Methow Valley Inn. So enjoyable and stimulating to hear readings by the authors and have a sense of the place. All were great and I wish they would copy all of the readings so I could think about them at my own speed. Was especially taken by Sam Lucy's story about a stubborn cow that would not leave the hills until the first snow. I could "see" the story. And Hub Miller's recount of coming home to a ranching valley after seeing the world. Reminded me of stopping at Bogan's Oasis on the Grande Rhonde many years ago. Ordered a hamburger and the cook sawed off a patty from a preformed roll in the freezer. Went on to hike and camp with my future wife and ended up seeing more rattlesnakes than I have ever see in one place.
Currently, am working on a wooden carving of a Great Blue Heron, a cow skull assemblage, an impala from found objects , a fire ring/trellis, and a "snow" shovel. Need to finish two more for the upcoming concept to creation show at the Confluence Gallery, Twisp, WA. Also need to finish up a proposal for art along a trail tied in with a salmon recovery project. just printed off some reference photographs and hope to do some painting soon. Need to take time out to perch fish and grouse hunt soon.
17 November 2012
The osprey was installed by the Twisp ponds this fall. Recently took some work to the Confluence Gallery Christmas Show. Tried a few new art forms for this show: tamarck salmon bowl and a copper engraving of a bull snake. Now am working on the 10"x10" show. All pieces will be sold for $100. Some artists find it insulting to offer work for such a low price. I find it a great opportunity to go outside of the methods, subjects, and media I normally work in and try something new.
---